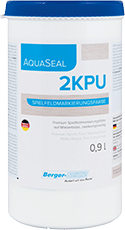 AquaSeal SportMarking color (2K-PU)
Universal 2-component field marking paint and is available in all colorations needed. Can be combined with AquaSeal 2KPU Sport, AquaSeal 2KPU and AquaSeal GreenStar.
Consumption
9-12 m2 per can resp. about 120-150 m per can
Packaging
990 ml – EUR 95,26
* The terms of the contract and the right of withdrawal can be found in the Documents section.
* This product is one of the regulations of the Cabinet of Ministers No. 255, 22nd article exceptions, where the customer cannot exercise the right of withdrawal.
€95,26
Two-component varnish based on waterborne polyurethane systems which is used for marking lines on hardwood floorings in sports halls and for coloring AquaSeal 2KPU Sport or AquaSeal Green Star sports hall finishes. Giscode: W3/DD+
Colours: the quantities stated are based on standard lines in a standard sports hall.
White RAL 9010 – teniss – 5 cans
Black RAL 9005 – basketball – 7 cans
Blue RAL 5010 – volley ball – 2 cans
Green RAL 6010 – badminton – 2 cans
Orange RAL 2004 – handball – 7 cans
Yellow RAL 1007 – hadball – 7 cans
Red RAL 3000 – hadball – 7 cans
Application: SportMarking Color is mixed in a 10:1 ratio with AquaSeal 2KPU Härter (hardener). Thereafter, the mixture can be brushed and rolled and can be used within 2 h. Only mix the necessary quantities! The following procedure has proved to be successful:
Marking lines
Version 1 (on parquet) – priming coat:
AquaSeal FlexPrimer or AquaSeal ExoBloc drying overnight, no screening;1st roller coat of finish:
AquaSeal 2KPU Sport or AquaSeal GreenStar drying overnight, polishing; Marking paint: AquaSeal 2KPU SportMarking color drying overnight, polishing (not to bare wood!);2nd roller coat of finish: AquaSeal 2KPU Sport or AquaSeal GreenStar.
Version 2 (on elastic floor coverings)
Basic cleaning with Brilliance ElasticCleaner Brilliance ElasticCleaner- complete drying;
Marking paint AquaSeal 2KPU SportMarking color – drying overnight; Roll layers of finish coat- 1-2 layers AquaSeal ElasticStar.
Use suitable adhesive tape for the borders of the marking lines. The tape must be firmly applied to floor in order to avoid infiltration of the paint. Normally, one roller or brush coat of paint is sufficient.
Attention! In order to achieve smooth borders, the adhesive tape must be carefully removed immediately when wet after initial drying.
Transparent colouring of surfaces: complete areas (for example, penalty areas) can be colored using this method.
Depending on the intensity of color required, 1 to max. 10% of marking paint is mixed with AquaSeal 2KPU Sport or AquaSeal GreenStar and stirred up carefully.
The following system is applied by roller: 2-3 of finish mixed with marking paint, polishing between coats. Drying overnight of each coat (24 h). Generally speaking, less
marking paint and more coats will improve the uniform appearance of the surface. We recommend that areas of overlappings should change from coat to coat.
Well coloring of surfaces: for this purpose, the areas are finished with AquaSeal 2KPU Sport or AquaSeal GreenStar mixed with about 30- 40% of AquaSeal SportMarking color. Stir well before use. The colored finish is applied in 1–2 rollers coats with polishing and drying overnight after each coat (24 h).
Special advice: Important!: Colored surfaces finished with Marking Paint must not be screened to the bare wood.
Apply the last seal with AquaSeal 2KPU Sport or AquaSeal GreenStar colorless.
Attention! We recommend preparing a small test surface subject to approval by the customer in any case. Due to the natural color of the finish, recoating with clear finishes may lead to color deviations.
Drying: standard climate 23°C/50% humidity: dry to touch: about 1-2 h recoatable: about 24 h
Consumption: 9-12 m2 per can resp. about 120-150 m per can, consumption per standard field as mentioned in item 2.
Storage/transport: shelf life of original unopened packing min. 12 months (hardener 6 months) provided that material is transported and stored at a cool and dry place.
Store in a dry, well-ventilated place at a temperature between 15 ° C and 25 ° C. Protect from heat and direct sunlight. Keep tightly closed.
Gallery