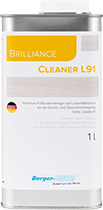 Brilliance Cleaner L91 – cleaning agent / solvent
Brilliance Cleaner L91 is for removal of stains, heel marks and dirty wax/polish films on all solvent-resistant surfaces; for basic and intermediate cleaning.
Consumption
Approx. 20 ml/m2 or 1 l/50 m2.
Packaging
1 l – EUR 19,71
5 l – EUR 62,86
* The terms of the contract and the right of withdrawal can be found in the Documents section.
* This product is one of the regulations of the Cabinet of Ministers No. 255, 22nd article exceptions, where the customer cannot exercise the right of withdrawal.
€19,71 – €62,86
Description

Documents

Video
Brilliance Cleaner L91 KH-Verdünnung (thinner) is a solvent- based basic cleaner with a high cleaning effect for stains and heel marks as well as for the removal of dirty wax films on finished parquet, hardwood floors and other solvent-resistant surfaces.
Note: Use Brilliance Cleaner L94 for basic cleaning of floors treated with Brilliance Everclear.
Application: A cloth is soaked with Brilliance Cleaner L91 and the floor to be cleaned is scrubbed by machine or manually in sections. After a short waiting period, the dissolved wax film is wiped up with a dry cloth. Always use a fresh cloth so that the wax film is not spread but absorbed by the cloth. Depending on the extent of the soilings and the thickness of the film to be removed the cleaning procedure is repeated. Please see to it that no puddles of Brilliance Cleaner L91 remain on the finished floor. Soilings such as rubber marks, grease and color stains are removed by rubbing with a soft cloth soaked with Brilliance Cleaner L91.
Brilliance Cleaner L91 is a basic cleaner suitable for floors treated with wax-containing care products (Brilliance Fitpolish, Classic Pflegeöl, Brilliance AquasatinPolish). After careful cleaning with Brilliance Cleaner L91 one of our compatible maintenance products is applied immediately.
If Brilliance Cleaner L91 is not used as a basic cleaner, but as a thinner for use, please refer to the Technical Information Sheet thinners.
Cosumption: approx. 20 ml/m2 or 1 l/50 m2.
Storage / transport : Shelf life of original unopened packing 24 months min. provided that material is transported and stored at a cool and dry place.
Store in a dry, well-ventilated place at a temperature between 15 ° C and 25 ° C. Protect from heat and direct sunlight. Keep tightly closed.
Gallery