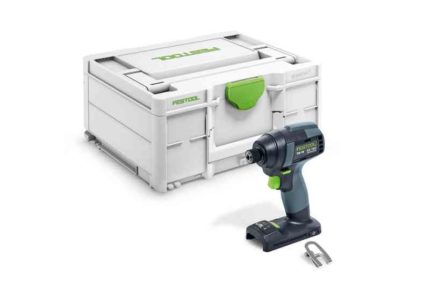 Cordless impact driver TID 18-Basic
Cordless impact screwdriver.
Product code: 576481
* The terms of the contract and the right of withdrawal can be found in the Documents section.
€347,89
Description

Documents

Video
Key features:
– strong rotation;
– harmonic battery tandem with the latest generation EC TEC carbon-free electric motor for maximum power and uptime;
– durable, high-quality components guarantee trouble-free operation of the tool;
– the impact mechanism operates without the wrist bounce.
Usage:
– furniture assembly
– installation of fittings, cladding
– installation of doors and windows
– screwing in wood, metal and plastic
– installation of fences, canopies
– production of wooden load-bearing structures.
Technical data:
Battery voltage: 18 V
Gears: 3 + T-Modus
Idle speed 1./2./3. in transmission: 0 – 1200/0 – 2000/0 – 3200 min⁻¹
Max. number of shocks: 4500,00 min
Max. torque: 180.00 Nm
Max. screw size in softwood: 8 x 220 mm
Tool mounting: 1/4 ″
Lithium ion battery capacity: 3.1 / 4.0 Ah
Weight with lithium ion battery: 1.3 / 1.5 kg
Noise and vibration levels:
Screwing: uncertainty (noise) K: 3.00 dB
Screwing: uncertainty (vibration) K: 4.00 m / s²
Screwing: A-weighted sound pressure level Lp: 97.00 dB (A)
Screwing: total average vibration value ah: 24.00 m / s²
Screwing: A-weighted acoustic power level Lw: 108.00 dB (A)
Delivery set:
– belt clamp
– placed in the Systainer SYS M 187 box
Gallery