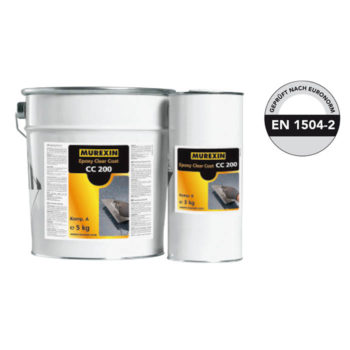 Epoxy clear coat CC 200
Solvent-free, glossy, 2-component epoxy resin hardener system for transparent coatings.
Consumption
As transparent over coating min. 1.5 kg/m² as topcoat approx. 0.8 kg/m².
Packaging
10 kg, A+B comp. – EUR 290,64
* The terms of the contract and the right of withdrawal can be found in the Documents section.
* This product is one of the regulations of the Cabinet of Ministers No. 255, 22nd article exceptions, where the customer cannot exercise the right of withdrawal.
€290,64
Description

Documents
Solvent-free, glossy, 2-component epoxy resin hardener system for transparent coatings.
Indoors to produce transparent, optically appealing living rooms and showrooms as well as for high load industrial floors which are walked and driven on. For coating over epoxy resin coatings, creative floors on reactive resin base and suitable mineral substrates.
Recommended tools:
slow-rotating electric agitator, suitable mixing vessel, trowel, smoothing trowel, spatula, micro paint roller, hand or surface rake, rubber broom, de-aeration roller.
Mixing:
component A and component B are basically delivered in the relevant correct mixing ratios. A scale must be used to determine partial quantities. Thoroughly mix component A via a slow-rotating electric agitator (approx. 300 rpm), then add component B and continue mixing until a homogeneous, lump-free consistency is reached (approx. 2-3 minutes).
To prevent mixing and/or proportioning mistakes, the mixed material must be decanted into a clean, dry container (repotted) and stirred thoroughly again.
Processing:
Depending on the application, pour the material onto the pretreated substrate section by section and distribute across the entire surface with a suitable tool.
– apply as coating unfilled and aerate in fresh conditions with suitable tool
– apply as topcoat via rubber broom and roll
Storage
Store in a dry, well-ventilated place at a temperature between 15 ° C and 25 ° C. Protect from heat and direct sunlight. Keep tightly closed.
Gallery