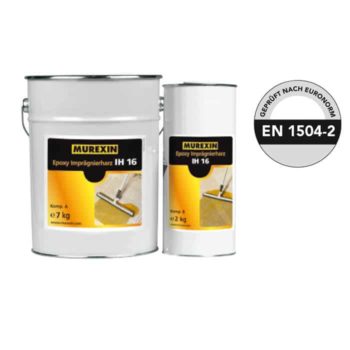 Epoxy impregnating resin IH 16
Solvent-free, transparent, unfilled epoxy resin hardener system in two components for substrate preparation, especially for solidifying unstable, brittle, low strength mineral substrates and for crack repair. Indoors and outdoors as solidifying impregnation of strongly absorbent mineral substrates as well as for crack injection for crack widths of up to 0.3 mm.
Consumption
Approx. 0.3 – 0.7 kg/m² depending on absorbency.
Packaging
9 kg, A+B comp. – EUR 243,06
* The terms of the contract and the right of withdrawal can be found in the Documents section.
* This product is one of the regulations of the Cabinet of Ministers No. 255, 22nd article exceptions, where the customer cannot exercise the right of withdrawal.
€243,06
Solvent-free, transparent, unfilled epoxy resin hardener system in two components for substrate preparation, especially for solidifying unstable, brittle, low strength mineral substrates and for crack repair. Indoors and outdoors as solidifying impregnation of strongly absorbent mineral substrates as well as for crack injection for crack widths of up to 0.3 mm.
Recommended tools:
slow-rotating electric agitator, suitable mixing vessel, smoothing trowel, spatula, roller, rubber lip, hand-lever press, injection devices.
Mixing:
component A and component B are basically delivered in the relevant correct mixing ratios. A scale must be used to determine partial quantities. Thoroughly mix component A via a slow-rotating electric agitator (approx. 300 rpm), then add component B and continue mixing until a homogeneous, lump-free consistency is reached (approx. 2-3 minutes). To prevent mixing and/or proportioning mistakes, the mixed material must be decanted into a clean, dry container (repotted) and stirred thoroughly again.
Processing:
The mixed impregnation is poured onto the substrate and applied via flooding with a rubber broom androlled. With injection process inject with suitable device.Unmixed residual quantities are to be mixed with quartz sand in original container or in a metal container without a cover and allowed to harden in the open.Through the addition of quartz sand, the heat development is contained and any possible development of smoke is reduced. The original container is a metal container with which there is no fire risk from the product if these specifications are heeded.
Storage
Store in a dry, well- ventilated place at a temperature between 15 ° C and 25 ° C. Protect from heat and direct sunlight. Keep tightly closed.
Gallery