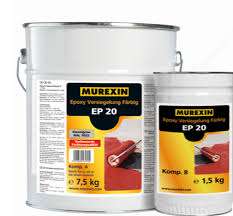 Epoxy seal EP 20
Solvent-free, glossy, coloured 2-component seal based on epoxy resin for indoor and outdoor.
Consumption
Approx. 0.2 kg/m² per coat depending on the absorbency of the substrate.
Packaging
Ready made/ available color: gray RAL 7032: 9 kg, A + B comp. – EUR 218.24
Other RAL colors also possible to get on order. The price varies depending on the RAL color be ordered.
* The terms of the contract and the right of withdrawal can be found in the Documents section.
* This product is one of the regulations of the Cabinet of Ministers No. 255, 22nd article exceptions, where the customer cannot exercise the right of withdrawal.
€218,24
Description

Documents
Solvent-free, glossy, food and feed-safe, coloured 2-component seal based on epoxy resin. High wear and chemical resistance.
Indoor and outdoor seals which can be walked or driven on with light to moderate mechanical load on suitable mineral and epoxy resin substrates. On wall and floor areas, especially in wet areas as an alternative to ceramic tiles.
Recommended tools:
slow-rotating electric agitator, suitable mixing vessel, trowel, smoothing trowel, spatula, micro paint roller, hand or surface rake, rubber broom, paint grid.
Mixing:
component A and component B are in the relevant correct mixing ratios. A scale must be used to determine partial quantities. Thoroughly mix component A using a slow-rotating electric agitator (approx. 300 rpm), then add component B and continue mixing until a homogeneous, lump-free consistency is reached (approx. 2-3 minutes).
To prevent mixing and/or proportioning mistakes, the mixed material must be decanted into a clean, dry container (repotted) and stirred thoroughly again.
Storage
Store in a dry, well-ventilated place at a temperature between 15 ° C and 25 ° C. Protect from heat and direct sunlight. Keep tightly closed.
Gallery