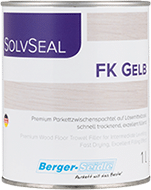 SolvSeal FK-Gelb – trowel primer
SolvSeal FK Gelb is a fast-drying trowel primer for all solvent-based hardwood-floor finishes made by Berger-Seidle. Due to the very good filling capacity the wood pores will be filled in the best way. This primer is not suitable for water-borne hardwood-floor finishes.
Packaging
5l – EUR 138,67
10l – EUR 190,33
* The terms of the contract and the right of withdrawal can be found in the Documents section.
* This product is one of the regulations of the Cabinet of Ministers No. 255, 22nd article exceptions, where the customer cannot exercise the right of withdrawal.
€138,67 – €190,33
Description

Documents

Video
SolvSeal FK Gelb is a quickly drying thixotropic plastic trowel primer with good filling properties for use as priming coat on parquet and other hardwood floorings. SolvSeal FK Gelb brightens the color of the wood. SolvSeal FK Gelb is suitable for recoating with SolvSeal LT Export Extra and Solvseal Uno Siegel. SolvSeal FK Gelb can also be used for intermediate filling with SolvSeal Uno Siegel to prevent the paint from running into the joints.
Application
The product is applied in 2 cross coats with trowel. Avoid trowel marks and ridges. After the surface is sufficiently dry, it is recoated without screening (risk of discolorations due to sanding through to bare wood). Cleaning of the tools with SolvSeal Universal-Verdünnung.
Drying
Standard climate 23°C/50% rel. humidity:
recoatable after abt. 30-45 min., unsufficient ventilation, low temperatures, high humidity or thick coats may delay drying considerably.
Consumption
Depending on substrate and method: 1 trowel coat- approx. 30-40 ml/m2 resp. approx. 25-30 m2/l.
Storage
Store in a dry, well-ventilated place at a temperature between 15 ° C and 25 ° C. Protect from heat and direct sunlight. Keep tightly closed.
Gallery