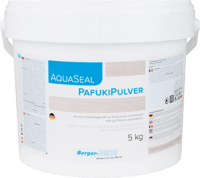 AquaSeal PafukiPulver – colored powder, miscible with water
Solvent-free, scentless gap filling solution with good filling properties. The powder already has the color of the desired wood color shade (no need to add wood flour).
Application
With stainless steel trowel
Consumption
Approx. 17-25 m2/l
Drying
Approx. 20-30 minutes
Packaging
0,6 kg – EUR 17,63
5 kg – EUR 84,70
* The terms of the contract and the right of withdrawal can be found in the Documents section.
€17,63 – €84,70
Description

Documents

Video
AquaSeal® PafukiPulver (powder) is a wood-colored solvent-free product based on dispersion powder for the preparation of wood filler or joint putty. AquaSeal® PafukiPulver is mixed with water in order to achieve the required flow properties. The filling compound is used for filling joints, cracks etc. within all kinds of wooden substrates, e.g. parquet, hardwood flooring etc. Giscode: W1
Colors: oak, beech, maple – ash – pine, wenge – smoked oak, azobe – teak, white, black.
Application: AquaSeal® PafukiPulver is mixed with water until the application consistency is achieved. That means that, depending on the color, 1 kg of AquaSeal® PafukiPulver mixed with the corresponding quantity of water will result in approx. 1,1 – 1,2 l of liquid mixture, i.e. 5 kg of powder + 3,5 l of water = 5.5 l wood filler. If necessary (e.g. for very absorbent substrates), the quantity of water can be increased. Stir well. As soon as a homogenous filler compound suitable for trowelling is ready, the product is applied to the complete surface using a trowel in the same way as conventional fillers. Filler mixtures containing too much water will settle down in the gaps during the drying process. In case the mixture contains too much powder, the filler may be torn out of the gap during the next sanding procedure. Large joints must be closed with pieces of wood and joints containing wax must be cleaned prior to the application of the filler compound.
The AquaSeal® PafukiPulver filler compound should be applied quickly without leaving any residues as they will dry immediately. The pot life of the mixture is approx. 45 minutes. Afterwards the material starts thickening. Final sanding of the floor is carefully effected after the floor is sufficiently dry safeguarding that no residues of the product remain on the floor. A floor treated with AquaSeal® PafukiPulver can be recoated with any kind of our finishes. AquaSeal® PafukiPulver cannot be mixed with sanding dust.
AquaSeal® PafukiPulver is also used as color-/hardener component in combination with AquaSeal® PAK-Stop. Please refer to the relevant Technical Data Sheet of AquaSeal® PAK- Stop.
Drying: at 23°C/50% rel. humidity and standard trowel application of a floor with small joints only: sandable after approx. 20-30 minutes. Large joints and cavaties may delay drying considerably. Do not screen before the surface is sufficiently dry.
Consumption: depending on substrate and working method: 1 trowel coat: approx. 40-60 ml/m2 resp. approx. 17-25 m2/l. In case of large joints and cavaties, consumption may be increased considerably.
Storage / transport: shelf life of original unopened packing 36 months min. provided that material is transported and stored at a cool and dry place protected from freezing.
Store in a dry, well-ventilated place at a temperature between 15 ° C and 25 ° C. Protect from heat and direct sunlight. Keep tightly closed.
Gallery