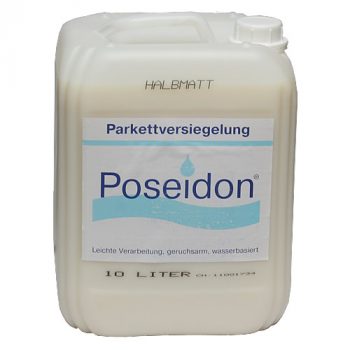 Poseidon – varnish for surfaces with medium load
The varnish has been awarded the ECO symbol "Blue Angel"
Ecological, 1-component, fast-drying, high-quality polymerized acrylic and polyurethane dispersion base varnish for parquet, wooden floors, furniture, stairs and wooden surfaces.
Consumption
Approx., 90-130 ml/ 1 m² resp., 8-12 m²/1l
Packaging
1 l – EUR 18,15 /semi gloss/
10 l – EUR 145,20 /semi gloss/ – reduced price /The basic price of the product is EUR 148,47/
* The terms of the contract and the right of withdrawal can be found in the Documents section.
* This product is one of the regulations of the Cabinet of Ministers No. 255, 22nd article exceptions, where the customer cannot exercise the right of withdrawal.
€18,15 – €145,20
One-component, quick-drying coating. It is designed for coating parquet and wood floors in apartments, with normal and medium wear. Giscode W2+.
Degree of gloss: semi gloss, gloss
Application: Poseidon is rolled undiluted in 3 layers or rolled 1 x and cross-toweled 2 x and then rolled again 1 – 2 x.
Before that, the surface must be well sanded till 120 grit sandpaper.
Before the last coat of varnish, intermediate sanding is performed with 120 grit sanding sieve.
Special instructions: unlike conventional, solvent-based finishes, Poseidon should be applied in rich layers. The material should not be excessively spread with the roller!
Primer alternatives: if for optical reasons (deep wood color) the use of a solvent-based primer is desired, UniQuick Primer is recommended. To reduce edge bonding in case of nervous wood species, e.g. beech, the Aqua-Seal FlexPrimer is  recommended.
Draying: at 23°C/50% rel. humidity on a rolled layer: after 3-4 hours grindable and carefully walkable.  Troweled layer: approx.  10 – 20 min. With poor ventilation, lower temperature, other humidity and increased layer thickness, drying can be significantly delayed. Do not expose to wear, cover with carpets or apply care products for 8-14 days.
Before loading the surface, it must be treated with Brilliance Everclear (See technical instructions).
Consumption:  depending on the substrate and working method:
– 1 trowel layer approx. 30 ml/m2 or approx. 33 m2/l;
– 1 rolled layer approx. 100 ml/m2 or approx. 10 m2/l.
Storage/transport: shelf life of original unopened packing is a min. 12 months for the finish provided that the material is transported and stored in a cool and dry place protected from freezing.
Store in a dry, well-ventilated place at a temperature between 15 ° C and 25 ° C. Protect from heat and direct sunlight. Keep tightly closed.
Factory sealed prefabricated parquet: Poseidon is not suitable for the re-sealing of factory coated prefabricated parquet and cork.
Gallery