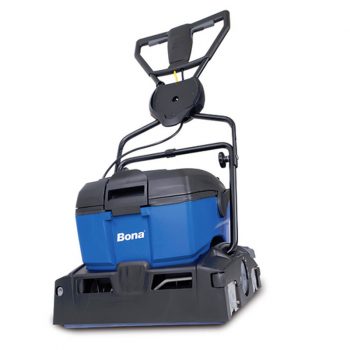 Powerful scrubbing machine Bona POWER SCRUBBER
The Bona Power Scrubber is a versatile and powerful scrubbing machine for cleaning of most indoor floor surfaces as well as outdoor wood deckings
Deposit payment: EUR 300,00 (cash)
1 Day (24 hours)– EUR 40,00
Weekend rate (Friday from 15 °° + Saturday + Sunday + Monday to 12 °°) – EUR 70,00
We offer delivery of machine with all the necessary materials to your door.
Delivery price depends on the delivery zone (see description below).
€40,00 – €280,00
Description

Documents

Video

Video/2
The Bona Power Scrubber is a versatile and powerful scrubbing machine for cleaning of most indoor floor surfaces as well as outdoor wood deckings.
Bona PowerScrubber enables the most effective deep-down cleaning, combined with unrivalled versatility and ease. Counter-rotating roller brushes provide deep, effective cleaning while the powerful, yet compact design of Bona PowerScrubber delivers even more performance than most auto scrubbers, as well as the benefits of ergonomic operation, set-up and transportation.
Weight: 35 kg
Voltage: 220-240V/1-50Hz V, 2,3 kW
Power: 13 A
Rent
Deposit payment: EUR 300,00 (cash)
1 Day (24 hours)– EUR 40,00
Weekend rate(Friday from 15 °° + Saturday + Sunday + Monday to 12 °°)– EUR 70,00
Take your ID/ Passport with you.
We offer to rent sanding machines, polishing machines, washing and brushing machines with all the necessary materials (sanding paper, pads, fillers, cleaning products, waxes, oils, varnishes, etc.). We can offer to deliver necessary stuff up to your door. 
Delivery price depends on the delivery area:
Riga – center and  central districts – 30.00 EUR one direction.
Zone  nr. 1 – Babite, Pinki, Skulte, Marupe, Jaunmarupe, Tīraine, Gaismas, Jaunolaine, Baloži, Ķekava, Acone, Ulbroka, Salaspils, Baltezers, Ādaži, Kalngale, Garciems – 40 EUR one way.
Zone nr. 2 – Jūrmala, Olaine, Ikšķile, Baldone, Zaķumuiža, Garkalne, Kadaga, Carnikova, Vangaži, Tinūži – 60 EUR one way.
Cities located more than 35 km from Riga, the price – on request.
Gallery