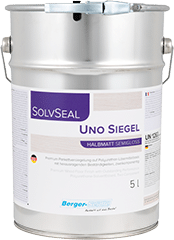 SolvSeal Uno – solvent-based, untreated polyurethane varnish
SolvSeal Uno Finish is a solvent-based, 2-component polyurethane hardwood-floor finish with excellent chemical resistances and high abrasion resistance.
Consumption
1 roller/brush coat:approx. 110-140 ml/m2 resp. approx.7-9 m2/l
Packaging
5l + 5l (varnish EUR 195,17 and hardener EUR 195,17) – EUR 408,26
* The terms of the contract and the right of withdrawal can be found in the Documents section.
* This product is one of the regulations of the Cabinet of Ministers No. 255, 22nd article exceptions, where the customer cannot exercise the right of withdrawal.
€408,26
Description

Documents

Video
SolvSeal Uno Siegel is a solvent-based 2-component finish based on high-quality polyurethane raw material for hard- wood floors and other wooden surfaces. SolvSeal Uno Siegel can be applied in 2 coats on top of a basecoat or in 3 coats without basecoat. Together with SolvSeal FK Gelb, SolvSeal Uno Siegel can also be applied in one coat, our so- called high-speed finishing system.
Degree of gloss
Semigloss, glossy
Application
SolvSeal Uno Siegel is applied in 2 or 3 rich roller coats. For standard coat thicknesses of 100-120 ml/m2, our rollers can be used, for increased coat thicknesses of 170- 300 ml/m2 we recommend using our BergerTool Uno Roller. Due to its excellent abrasion resistance, SolvSeal Uno Siegel is suitable in 3 coats (resp. 4 coats in case of very absorbent surfaces, for example, beech wood) for "high traffic" to "very high traffic" areas.
Combined with SolvSeal FK Gelb, SolvSeal Uno Siegel is suitable as 1-coat system (so-called high-speed finishing system) for average traffic floors, such as private homes, offering an efficient and time-saving alternative. SolvSeal FK Gelb is cross-troweled as usual and recoated with SolvSeal Uno Siegel (approx. 170-300 ml/m2) approx. 20-25 min. after the second trowel coat.
Immediately before use, SolvSeal Uno Siegel is carefully mixed with SolvSeal UNO Härter (hardener/mixing rate 1:1). Pot life of the mixture is 2-3 h.
Attention: Use fresh material for each coat.
Exotic wood species with tight pores or with a high oil content should be impregnated with 1 or 2 coats of diluted SolvSeal Uno Siegel (15-30%). Screening is required in order to safeguard adhesion in between coats.
Do not apply this finish if temperature is below +15°C
Use SolvSeal Universal-Verdünnung for dilution and cleaning of the rollers.
Drying
At 23°C/50% rel. humidity:
approx. 6–8 h for roller coating – approx. 120 ml/m2;
approx. 8-12 h for one-coat- approx. 190 ml/m2.
The floor can be carefully walked on after a drying period of the last coat of abt. 24 h. Insufficient ventilation, low temperatures high humidity or increased coat thickness may delay drying considerably. Do not expose to wear, cover with carpets or apply care products for 8-14 days.
Consumption
Depending on substrate and working method:
– 1 roller/brush coat:approx. 110-140 ml/m2 resp. approx.7-9 m2/l
– 1 thick roller coat for (high-speed finishing system): approx. 170-300 ml/m2 resp.1-coat system approx. 3-6 m2/l
Storage
Store in a dry, well-ventilated place at a temperature between 15 ° C and 25 ° C. Protect from heat and direct sunlight. Keep tightly closed.
Gallery