Berger-Seidle is a professional product line for the treatment and protection of various surfaces. We recommend that floors treated with Berger-Seidle varnishes and oils be treated only with Berger-Seidle care products. They are specially developed in the laboratory and are designed to care for Berger-Seidle varnishes and oils, as well as laminates, linoleum, plastics and tiles.
Avalon care products are a line of natural products for oil or wax treated surfaces as well as linoleum and laminate.
It is very important to take good care of the floor so that it retains its beauty for as long as possible. But if you happen to not clean and renovate the floor in time, the range of care products and waxes is very wide, so we will welcome you to our store, find the most suitable for you and provide professional advice.
Avalon Bodenmilch – natural floor milk
View
Avalon Pflanzenseife – natural soap concentrate
View
Brilliance Cleaner L91 – cleaning agent / solvent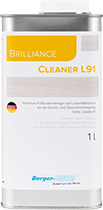 View
Brilliance Fitpolish – care and restoration wax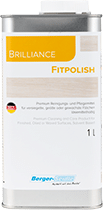 View
Brilliance FillAndFinish – gel care product
View
Brilliance Cleaner L94 – cleaner/wax remover
View
Brilliance Everclear – liquid wax

View