Cracks often form in the floor. This is especially true in homes with central heating, where the air is very dry in winter and humid in summer. As the humidity in the room changes, gaps appear. In turn, after laying the boards, they return their moisture and shrink, creating gaps. You can already leave the floor as it is by using a vacuum cleaner to vacuum the floor grooves. But if you want to close the gaps, you can fill the floor with a hard filler or a flexible filler. When using a hard putty, when the boards shrink in dry air, ugly notched cracks will form, but as the boards expand, there will be no space for the putty, tension will form in the floor and it may throw a "pump".
To close the gaps in the floor of the boards, it is better to use a flexible putty, which does not crumble and will allow the wood to expand and contract freely. Although in wet weather the boards will swell, the cracks will be compressed and the flexible putty will be lifted slightly, but in drier air it will remain in place and no cracks will form.
We offer Berger-Seidle professional flexible and inelastic fillers in different shades. The friendly Abschliff team will pick you up and help you choose the most suitable product for sanding and filling your floor.
Pafudima Rundschnur – round cord for filling large joints
View
Cork moldings
View
SolvSeal PafukiSuper – solvent-based putty solution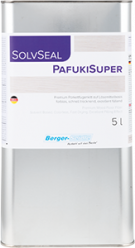 View
AquaSeal PAK Stop – filler for large gaps
View
AquaSeal PafukiPulver – colored powder, miscible with water
View
AquaSeal Pafuki – water-based putty solution
View
Pafudima FlexFill Color – flexible filler

View
Rubber cork sheet roll
View
Bostik 3070 – liquid cork
View